Poseidonia Healthcare

1996: ESTABLISHED HBOT CHAMBER
In 1996, our Managing Director Clive Martin secured and operated a small Hyperbaric Chamber Facility specifically catering for Scuba Diving Emergencies.
1997: LIMASSOL CENTRE
Originating in Limassol in 1997, primarily our centre was created for the increasing number of Recreational and Technical Scuba Divers exploring the local shores and the possible requirement for EMERGENCY Recompression Therapy in the event of any diving incidents.
2009: LARNACA CENTRE
In 2009 we expanded our collection of treatments, equipment and chambers and relocated to Larnaca where we founded the Poseidonia Medical Centre to cater for the growing demand of Hyperbaric Oxygen Therapy (HBOT) for patients suffering from various non-diving related diseases, injuries and conditions
2018: KYI CLINIC
Purchased KYI Clinic in Nicosia, Cyprus
2019: STEM CELLS
Introduced Pluripotent Stem Cells to Europe and have built two specialised stem cell treatment centres in Cyprus
Services of the Poseidonia Medical Centre
-RECOVERING FROM chronic DISEASE
In our experience people battling with Chronic Illness have often been met with a very traditionalist and drug-oriented approach of Medicine by the time they reach out to us at Poseidonia Healthcare. We look at all of your health issues and then build a personalized package and a set of protocols utilizing a number of proven technologies and treatments that focus on your body's natural capacity to heal itself. This very often has groundbreaking and long-term healing effects for our patients who are often at their wit's end as to what to do and how to proceed to get a more normal and healthy life back. Poseidonia Healthcare is one of the only facilities worldwide that can offer Stem Cell Therapy, Hyperbaric Oxygen Therapy, Ozone Therapy, Bio-Resonance treatments, Cryotherapy and much much more under one roof.
-TREATING LYME DISEASE AND CO-INFECTIONS
We have been successfully treating Lyme Disease and Co-infections for many years and it has become the treatment we are renowned all over the world. Our approach to addressing Lyme Disease is simple, we give your body a range of comprehensive treatments to help heal and boost your immune system while ridding the body of the bacteria associated with Lyme Disease. The treatments we offer include Ozone Therapy which kills pathogens, HBOT which helps restore your bodies natural functions and Stem Cell Therapy which repairs the damage Lyme Disease caused. Creating and combining these therapies with a comprehensive Detox Program, your health can be restored over our six weeks Lyme Disease protocol. Ozone Therapy has a 30-minute half time/M factor (gas tension strength decreases exponentially 50% every 30 minutes), so doing anything after that length of time diminishes the effects greatly as the ozone is no longer fully active.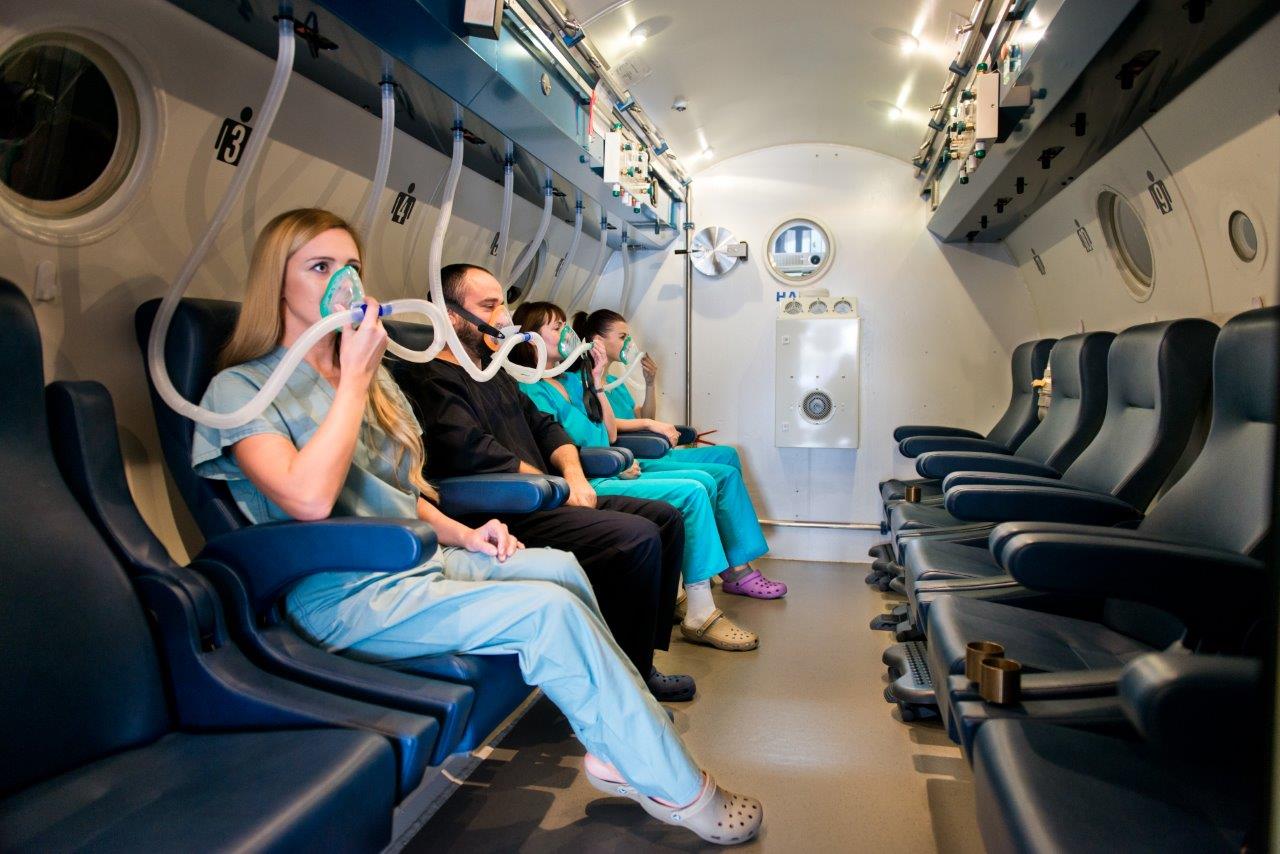 Using HBOT with correct PPO2 (Partial Pressures of Oxygen) will allow oxygen and Ozone to reach the furthest extremities of the body, literally everywhere which is why HBOT is an ideal adjunct therapy with anything else that is being put into the bloodstream. It is the elevated pressure of being at 2.4 ata during a 60-90-minute treatment that will push the Oxygen & Ozone into the plasma and to all the areas where the Lyme Disease spirochete are hiding. Our Lyme disease treatment allows patients to be pressurised in the Hyperbaric Chamber whilst the Ozone is still very active in their system. When both treatments are used in conjunction, this is a phenomenal advantage over other approaches. We are the only facility in Cyprus able to administer Ozone and put you in the chamber to 14 meters treatment depth whilst the ozone is still active, as we have the equipment in the same location.
- ANTI-AGEING HEALTH MANAGEMENT
Everybody thinks Anti-Ageing is only about the appearance of looking younger. However, at Poseidonia Healthcare we have a more holistic approach to this inevitable situation that affects us all in time. We can biologically decrease the age of your body, as our unique pluripotent stem cell technology will lengthen your telomeres, this will rejuvenate at the biological level the age of your body's cells. As we age biologically, changes happen throughout the body at a cellular level, and we assist in reversing these changes.
We rejuvenate your body's internal systems from the inside out. Both our stem cells and our hyperbaric oxygen treatments have a proven ability to also make your body's largest organ, your skin, look younger. This is a positive effect of these treatments. When you then combine these amazing therapies with the non-surgical beauty and detoxing treatments (insert links to these treatments) we have at Poseidonia Healthcare you will leave feeling amazing inside and out
-SPORTS PERFORMANCE
Every sportsperson is looking for an edge, how they can be better than others in their chosen field. Whether this is a sprinter looking to shave a second or 2 from their personal best or the footballer that wants to recover from an injury quicker. At Poseidonia Healthcare, we are here to assist in all areas of your Sports Performance and Injury Rehabilitation.
We have many different treatments that can help you increase your performance, recover from an injury or just keeping you generally more in shape. Our Medical Team will discuss your personal situation in more detail as to what you are looking to achieve and then recommend which of our amazing treatments would be best for you. This could be Oxygen Therapy to assist before a race enabling your body to be flooded with Oxygen or a simple 2-minute Cryotherapy session after a match to help you recover quicker
We are the only centre in Europe that can offer so many different Sports Performance treatments under one roof, enabling you to be the best version of the athlete that you aspire to be.
-NON SURGICAL BEAUTY THERAPY
You may wonder why at Poseidonia Healthcare we offer non-surgical beauty treatments? We have found that when people feel good on the inside they also want to feel good and look good on the outside. The treatments offered at Poseidonia Healthcare are to assist the body and use ingredients that are naturally found in your body like Collagen and Hydrochloric acid.
We do not offer treatments like Botox as that is introducing further toxins into the body and is totally against our philosophy of healing. As well as facial fillers, we also offer a range of body sculpting procedures to help you with those unwanted inches, as well as a range of other detoxing therapies. We offer a free consultation as each person's face is very different from another and our beauty expert will advise the treatment that will give you the best results.